**** Saipan-Tinian Travelogue 2008 ****
"All wars end in tourism."
(Tom Vanderbilt, American journalist)
(Last Update September 3 2008)
(To view the images, click the underlined phrases, and to return to this page, click RETURN key on the toolbar of your browser,
pictures here are shot with digital compact Pentax Optio E40 -8 mega pixels- powered by world-standard AA-size batteries ;)
---

August 16 2008

Our family visits Saipan of the CNMI (Commonwealth of Northern Mariana Islands) in August 2008 again, 11 years after the previous one (scroll down to the upper third). This time the team consists of my wife Mineko, second daughter Naoko (novice ENT doctor), and I (other kids are busy or already married, regrettably to this dad). We board NWA flight 076, depart Narita at 10AM JST on August 16 (Sat), and enjoy a comfortable flight over the vast Pacific ocean, during which I watch a movie entitled "Iron Man". As we approach Saipan, it is becoming cloudy with intermittent slight rain. We touch down at Saipan International Airport at circa 15:00PM local time (1 hour faster than JST, flight hours about four), then get on the shuttle bus and check in at the front desk of Fiesta Resort and Spa at Galapan. At the lobby, we make a reservation for the next-morning Managaha tour (cost: $25x3 + lunch $5x3 = $90) at Daichan's Big Boyz, after checking the market prices in the guidebook. As we are tired a bit, we choose the cultural dinner show at the ocean-view terrace for dinner (cost: $45x3 + Chile wine $50 = $185), where customers are 70% Japanese, 20% Korean, 8% Chinese and 2% Russian in my estimate. My fellow holidaymakers, let's carry out air-raid not with bomb, but with money!, since they say local economy here is not only bad but also very bad in this climate of hiking gas and food prices in world economy.

August 17 2008

We get up early morning at 7:00AM, take breakfast at 8:00, and I alone go to the trailer office of Hertz and receive a cheap Korean car (10,000 Yen for two days, prepaid in Japan through JTB, newly contract a minimal standard insurance circa $22/day, attendant: Yoko Kern). At 9:45, we depart to Managaha Island from the beach just before the hotel on a small motorboat. The weather is cloudy occasionally clear, and in 15 minutes we arrive at the island, and enjoy snorkeling just like in a decade ago (put on a straw hat mail ordered from Sheplers, USA over a decade ago, prospect of Suicide Cliff). We return from the island at 14:00PM, and at the hotel room hastily shower and change into a trekking clothe. We leave the hotel at 14:30 and drive to the north end, i.e., Banzai Cliff, on the rented car with change of clothes in the trunk. In about 30 minutes, we arrive at the cliff and pray for the Japanese civilian and military victims who threw themselves in the last phase of the Battle of Saipan in June and July 1944. There are many monuments (cenotaphs) there, but there are some signs of vandalism, e.g., the stella for the sunken cruiser Myoko was destroyed to three pieces, shame. After waiting in the parking lot a few minutes, our friends Alan J. Barak and Stephanie Hart-Gouleau arrive, with whom we have been communicating through internet between Tokyo and Saipan. In 2006, Alan approached me through net after coming upon my page on Saipan travelogue, and we made the virtual acquaintance. He is, in fact, deputy attorney general of the CNMI, a former law professor in the local college of some of the lower 48 states, whereas Stephanie is a French-trained M.D., actually after graduated from University of Nantes she got a board-certification for family practice in France, then went to the States, studied pathology as a resident for two years at the University of Minneapolis. Today Alan invites us to a one-hour downward hiking from the top of the Suicide Cliff (southward view from the Banzai Cliff). Plan A by Alan is;
- We meet at Banzai Cliff at 15:15PM, and drive to the ending point (foot of the cliff near the Last Command Post of the Japanese army)
- Drop a Hyundai we rented there
- All drive in Alan's car to the top of Suicide Cliff
- Park that car at the top of the Cliff
- All hiking down to the ending point (near the Last Command)
- Two of us drive Hyundai to the top again
- Two drive two separate cars down from the top to the starting (ending point), while others waiting there
- We all drive two cars to his place at Mt.Tapochau, and enjoy dinner party with wine and salmon.
According to the plan, we begin to trek from the top of the cliff, charge into the tangled juncle (boonie hat, MIL-SPEC-H-43577, mail ordered directly from U.S. Cavalry, USA, during Operation Desert Storm years; Gold-plated classic field watch and country walkers shoes from L.L.Bean), rocky slope, and crevasses, which the Japanese army used as an air-raid shelter. Here and there I identify the fragments of ceramic wares and beer bottles which are die-stamped Dai-Nippon Brewery Co. in alphabets and from right to left in Katakana characters, which are obviously the remnants of our Imperial Force's desperate war efforts to secure the absolute defense sphere in June and July 1944. Every time I find them, I join my hands in prayer. During this trek, I consistently search for the remains of our war dead (skeltons), thinking if I could find them I should bring them back to Tokyo and present to the Department of Veterans Affairs of the Ministry of Health of Japan, however, there seem no remaining bones on this route. Alan responds that they sent back to Tokyo all the bones as far as they could recover. At about 18:00, after 2-hour-hiking, we reach the starting point.
After we group two cars at the starting point, we depart together to Alan's villa, which is located near the summit of Mt. Tapochau. At this evening, Stephanie is actually on call to her partnered clinic, and I notice how loyal and professional she is to her duty. However, she is not called luckily this night.

Alan's house is located at the ideal scenic point, and standing on his balcony, the vast Pacific ocean with a setting sun appear in full view, Managaha island in the right side and Galapan bay right in front. We are given a warm reception, after taking a shower and changing clothes, with decent wine bottles and homemade dishes of salmon, etc. Especially, I am surprised with his decent audiophile taste, including Klipsch bookshelf speakers, which I never envisage in the small island in the Pacific. Good view, good wine, good food, good audio, C'est La Vie, indeed.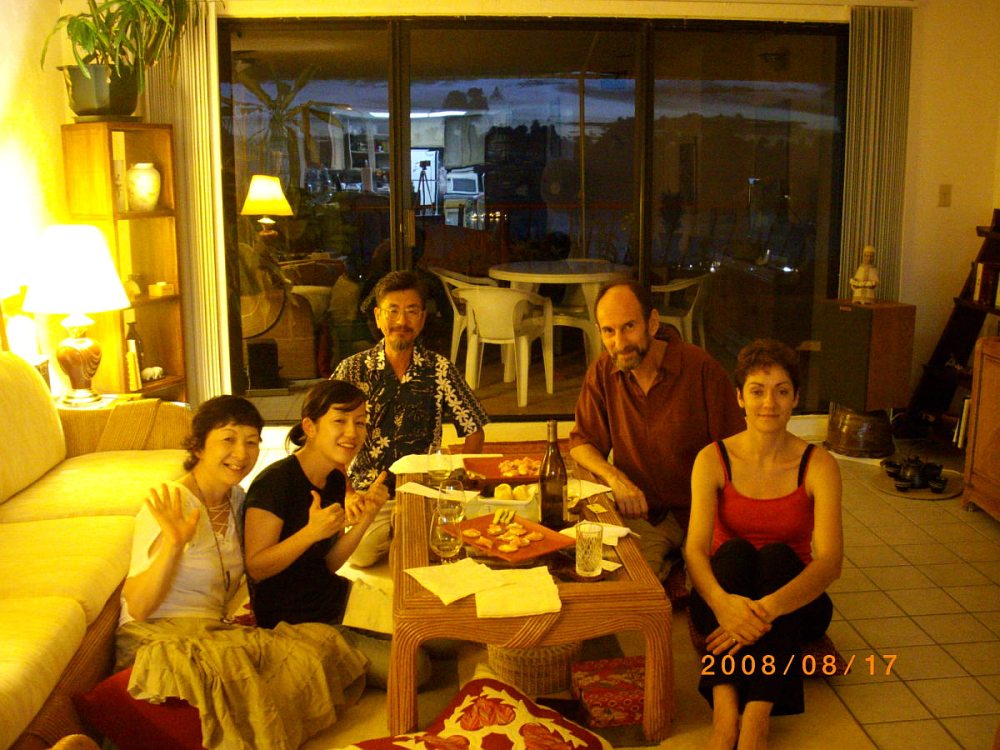 Ceremonial photograph with no flash in Alan's villa (crick here to enlarge)



After a while, one more doctor arrives, whose name is Raphael Loutoby, MD, born near Jamaica, studied at the University of Paris (medical degree), came to the United States, studied at Atlanta and got a board certification of nephrology. He is now in his long-term contract with the clinic in Saipan beginning April 2008. As time goes by, the discussion deepens,
Akio: "I would ask you what is the most prevalent disease in Saipan-Tinian area?"
Raphael: "Diabetes, one out of four Chamorro suffer from. The underlying cause is gene, in association with sugar abuse, especially into the bread here."
Alan: "After the end of WW2, the States provided sugar as supplement to increase the needed calorie to the people of the world. German people did not suffer from obesity and diabetes mellitus, but people of the southern islands did."
After a very interesting conversation, we excuse ourselves before it gets too late. Raphael leads way to a fork in the middle of the mountainside, and after saying goodbye, I drive down with my family to the hotel very carefully, under the minimal influence of,,,. Humphrey Bogart would say,
"Louis, I think this is the beginning of a beautiful friendship"
(in "Casablanca", Warner Brothers, 1942)
August 18 2008

We get up early morning at 6:30, take a breakfast in the buffet of the hotel, and depart at 8:00 on the rented car for the International Airport, where we park it in the public lot ($1 for one hour) and purchase one-day round-trip tickets at the desk of community airline terminal, Freedom Air (cost: $84 x 3 = $252). We board a low-wing monoplane with non-retractable landing gear Piper Archer(?) (Piper's home page) at 10:00, and take off from Saipan. The flight of about 15-minute duration over the Pacific sea on this low-winged monoplane reminds me of a fleet of Imperial Japanese Navy's A6M fighters (code-named Zeke, or Rei-sen) and D3A dive bombers (code-named Val, type 99) making a formation flight with rumbling reciprocal-engine sounds during WW2. After touched down Tinian Airport, we call a shuttle car to the desk of Tinian Dynasty Hotel and Casino, as friends in Saipan indicate. I ask the nice and young driver from Philipine, about local economy, who responds "Oh, it is bad, rather very bad. Total population of Tinian is 4,000, 800 out of which are employee of the Dynasty." (cost: a bit of tip). At the desk of Avis, we rent a small car, where the attendant asks me if Corolla is o.k., to which I declare "TOYOTA Corolla is the best car in the world, in terms of durability and cost-effectiveness" (disclosure: my late father Tatsuo was the designer and formulator of the first generation Corolla)(cost: $50.95 for three hours, including minimal and standard insurence package, similar to those of Hertz in Saipan).
We bear straight to the north on the Broadway photo-1, photo-2, photo-3 between shrub and ranch, visiting Hinode American Memorial and Ushi Cross Point at the north end (Saipan seen across the sea). We never meet other cars for the last 30 minutes. There, we turn heading around to the south, and enter the ruined air field area.
- Atomic bomb pits: There are two pits in a rectangular shape on the simply paved field, separated about 100 meters each other, for Little Boy photo-1, photo-2, (gun-method weapon to reach supercritical mass of uranium 235) loaded aboard the Enola Gay for Hiroshima and Fat Man (implosion-type weapon with a plutonium core) for Nagasaki. War is war, anyway, no words, here for me. We were beaten badly, really badly,,,
- Air Administration Building of the 1st Aerial Fleet (ichi-kou-kan in Japanese) of the Imperial Japanese Navy, in fact, a fleet of fighters, dive and torpedo bombers, WITHOUT aircraft carriers in this losing phase. It was under the auspices of Vice Admiral Kakuji Kakuta, killed in action in Tinian in August 1944, age 53. After making a salute straight and stiff, we enter the building. The backbone appears staunch, but penetrating damages from the top to the bottom of the building are obvious, probably made by naval bombardment by US battleships or aerial bombing. Battle damage assessment (BDA) reveals damages inflicted by aerial bombardment campaign appear far more effective in 1944 than in "Operation Rolling Thunder/Linebacker II".
- Air raid shelters in Ushi air field service apron
- Air Operations Building of the Imperial Japanese Navy, which I enter after a salute. Crew must be lining up in rows and columns on the front field, listening to the order. This is the operation center of specific military actions.
- Runway Able (satellite image on Google Earth). This is one of not two, not three, but four (!) runways, parallelly built in the east-west direction, each measuring 2,600 m long and 60 m wide, for B29 Superfortress. Outrageous! , they built four long runways in a short period, using hastily landed construction machines, e.g., many bulldozers. We were beaten badly, quite badly, naively depending on spiritual strength (Faith) not on science and technology (Force). Or, our leaders knew that, but they could do nothing facing poverty (world-wide depression protracted after the Wall Street Crash of 1929) and have-nots state (colonialism).

My comment: Japanese samurai pilots never took hostage of the civilian people, e.g., women and children, in order to protect themselves, devoting only their body and soul to their homeland, and never intensionally attacked civilian facilities, although some collatellal damages are unavoidable in military actions as usual. Kamikaze attack was pure military action sparked on the vast Pacific ocean. In this context, they were neither coward, nor terrorists. The Great Empire of Japan challenged boldly the United States of America with Combined Fleet, and she was badly beaten,,, really badly.
After driving to the south, we fulfill the gas at the station in San Jose and return the car to the desk of the Dynasty Hotel. As the attendant of Avis complains that the gas is not full checking the car, I indicate her the receipt issued at the gas station, then she accepts the situation. My guess is that her boss dictates her to do so, especially to the good-natured Japanese, this must be routine tactics.

"I never apologize!"
George Bernard Shaw (1856-1950)
Anglo-Irish playwright, critic
After purchasing some bread at the shop at the thin-trading arcade of the hotel, we go to Taga Beach and Tachogna Beach, the most beautiful and clearest beach as far as I know, beating those of Saipan and Guam. Fishes are dense, and we feel just like swimming in an aquarium. Marvellous! We retreat from the beach, and change clothes at the hotel. We again request the shuttle car to the airport, in fact there is no other method of transportation, board the similar Piper at 16:00PM, and depart Tinian, looking down the Runway Able from the above. We safely land the Saipan International Airport, and pay the fee of the parking lot (cost: $8). On the way back to the hotel, I fulfill the gas once again at Shell station (cost: $18.64), and park the car at the lot of the hotel, keeping the key in the driver's drawer, and autolock, as the attendant at the desk of Hertz indicated. We choose the dinner at the Italian restaurant at Hyatt Regency, Giovanni's, with wine (cost: total $244 for three). Is this dolce vita as the Italian loves? I would say Hyatt is far higher class and more decent than Fiesta Resort and Spa.

August 19 2008

We get up fairly late in the morning, and after taking breakfast go to the DFS Galleria, according to my wife and daughter's aspiration. There, I am tired within 10 minutes, and after putting small change into the box at the American Red Cross, I alone walk to the Court of Honor and Flag Circle at the American Memorial Park in the gray-sky morning, as I did a decade ago, in front of which I make a straight salute and climb the stairs slowly. I examine every stone monument carefully which inscribes the names of 2,875 Marines, 1,824 Army and 505 Navy personnel who were either killed or listed as missing-in-action during "Operation Forager" (the battles for Saipan and Tinian).

We returned to Narita at 10:00PM JST after fully enjoying Saipan and Tinian trips. NWA flight 075 from Saipan delayed both departure and arrival 3 hours, though, anyway we could return with no remarkable trouble. During the flight I watch the movie "88 Minutes". Lucky! I must work from the next morning at my hospital, resuming a trench-warrior pathologist duty.

My sincerest thanks to Prof. Alan J. Barak and Dr. Stephanie Hart-Gouleau. We owe the success of this fruitful trip to you.

Back to previous Home Page at AOL (Till October 31 2008)

Back to previous Home Page at geocities.jp web host (Till March 31 2019)

Back to New Home Page (Translocated Sakura server)
---
DISCLAIMER: This post/trip is not financially supported by the industry related to my current assignment to non-profit hospital. The views expressed here are those of the author Akio Hasegawa and do not necessarily reflect the official policy of any institutions in Japan. Citations of trade names do not constitute an endorsement of the products. Feedback is, as always, encouraged. Use the address DrHASEGAWA@aol.com for all correspondence regarding this column.

(Crick for English description)
This site is licensed under a Creative Commons License.
(Crick for Japanese description)
---
version 1.02 2008/10/05
Please send your comments to DrHASEGAWA@aol.com