**** Cebu Philipine Travelogue 2010 ****

(To view the images, click the underlined phrases, and to return to this page, click RETURN key on the toolbar of your browser, アンダーラインの部分をクリックすると画像がポップアップします、このページに戻るにはブラウザーの「戻る」あるいは「←」をクリックしてください、
All pictures here are shot by me, a seasoned-pathologist, with digital SLR Nikon D3000 Serial #2001042 with old Nikkor-S 35mm 1:2.8 Serial #380104, i.e., manual focus/manual exposure)

(Crick for English description)
This site is licensed under a Creative Commons License.
(Crick for Japanese description)
---

August 12 2010

Our family (Akio and my son Takao couples visits Cebu Island Philipine (map) on August 12-15 2010. We depart Narita on Philipine Air Flight 433 (Airbus A330) at 14:30 PM JST on August 12 (Thur, tickets), and touch down at Cebu Mactan International Airport in the dusk at circa 16:30PM local time (-1 hour than JST, flight hours about 5), change money to Philipine Peso (5200-5900 Peso = circa Japanese Yen 10,000, please take notice this is one-way trip, a point of no-return. Actually you cannot inversely change PESO to Japanese Yen, not only in Philipine but also in Japan), and are transported for 1.5 hours on arranged taxi by the hotel to the front desk of Alegre (introduction article in the Philipine Air inboard pamphlet). In fact, at the air port, we could not meet the taxi, and hustled to communicate with the manager of the hotel on phone. We had already interweaved sort of different national backgrounds before departure, and respond business-as-usual.

August 13 2010

We get up early morning and prepare for a tour to Capitancillo Islet (official site) tour, putting on snorkeling equipment. While we are going up north on the east coast of Cebu-1, -2, I am lost in thought about the war victims of our Imperial Navy and Army during the Shou-First Operation (捷一号作戦 in Japanese) of the pre-last phase of WWII, taking a draw on my pipe. As we are approaching the Capitancillo Islet, the crew throws off reserve. Yes, now we are friends. After a circa 1.5 hours cruise, we reach the islet at 11:00AM. After a hard snorkeling for an hour guided by the crew, before lunch barbecue, we offer a white wine in the cooler box that we brings from Narita to our KIA during badly beaten Battle of Leyte Gulf. Leyte Island is right in front of our eyes as we calculated during this travel planning.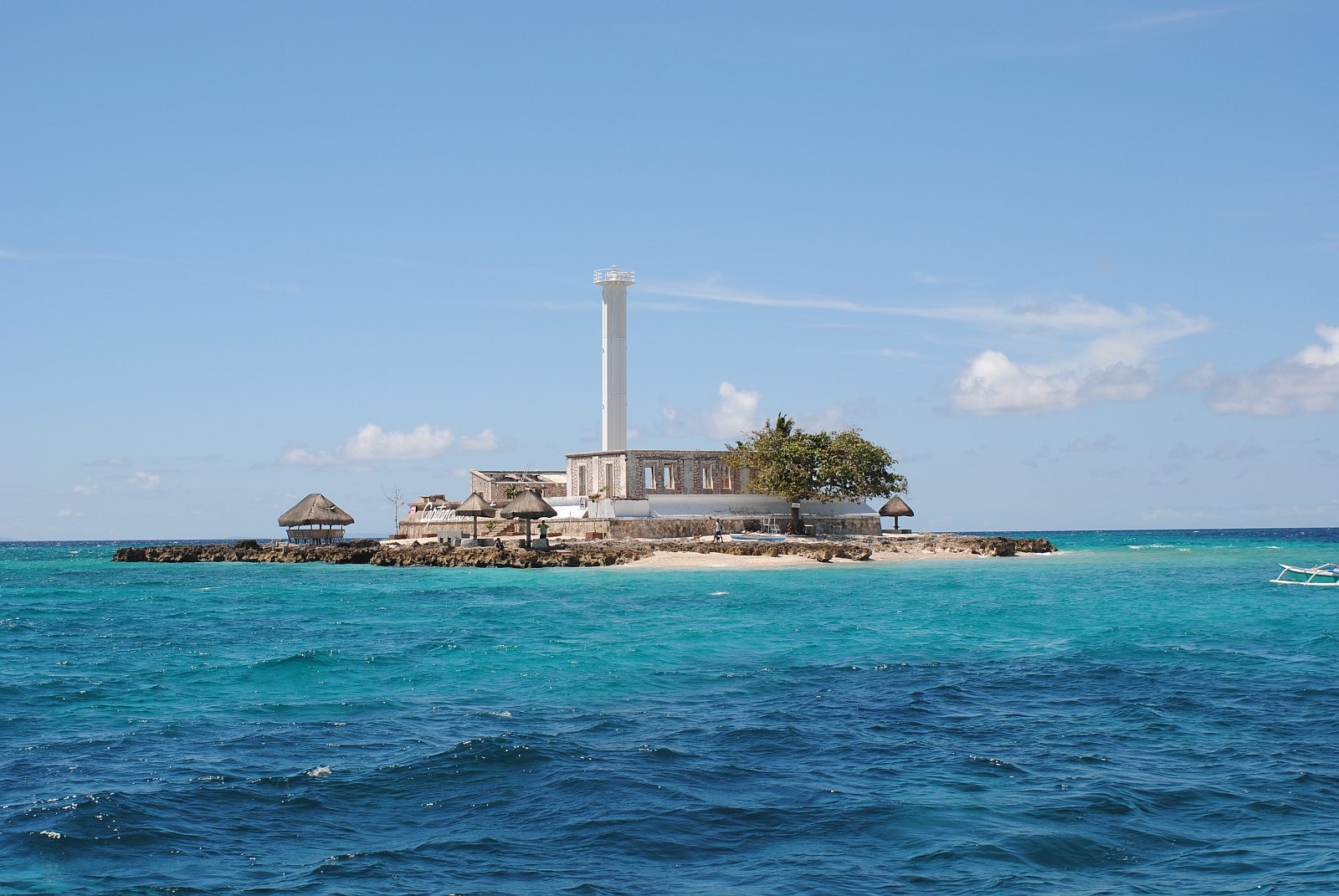 Capitancillo Islet (crick here to enlarge, hopefully twice)





Leyte island viewed from Capitancillo Islet, the north end of Cebu Island (crick here to enlarge, hopefully twice)



My son Takao, whose name ia actually godfathered by me from the Imperial Navy's heavy cruiser Takao (I must confess I love her virile ship silhouette, she survived the WW2 anyway) and I salute, standing straight and stiff. In fact, the battle ship Musashi of Kurita's Fleet was sunken on October 24 1944 in the sea of Sibuyan, in the north west direction from here, and Nishimura's and Shima's Fleets were advancing in the south end of Cebu Island to burst into the Leyte Gulf, eventually completely wiped out by the radar-aimed concentrated gunfire by Admiral Kinkaid's 7th Fleet before dawn on October 25 1944 (In some report, our radar 電探 was not so inferior to theirs). According to one estimate, about 600,000 Navy and Army officers and soldiers devoted their lives to our country in the battle of Philipine. After that duty, we dine together in good weather really relaxed, and are out for a stroll-1, -2.

We board the same ship and depart this beautiful island at 15:00PM.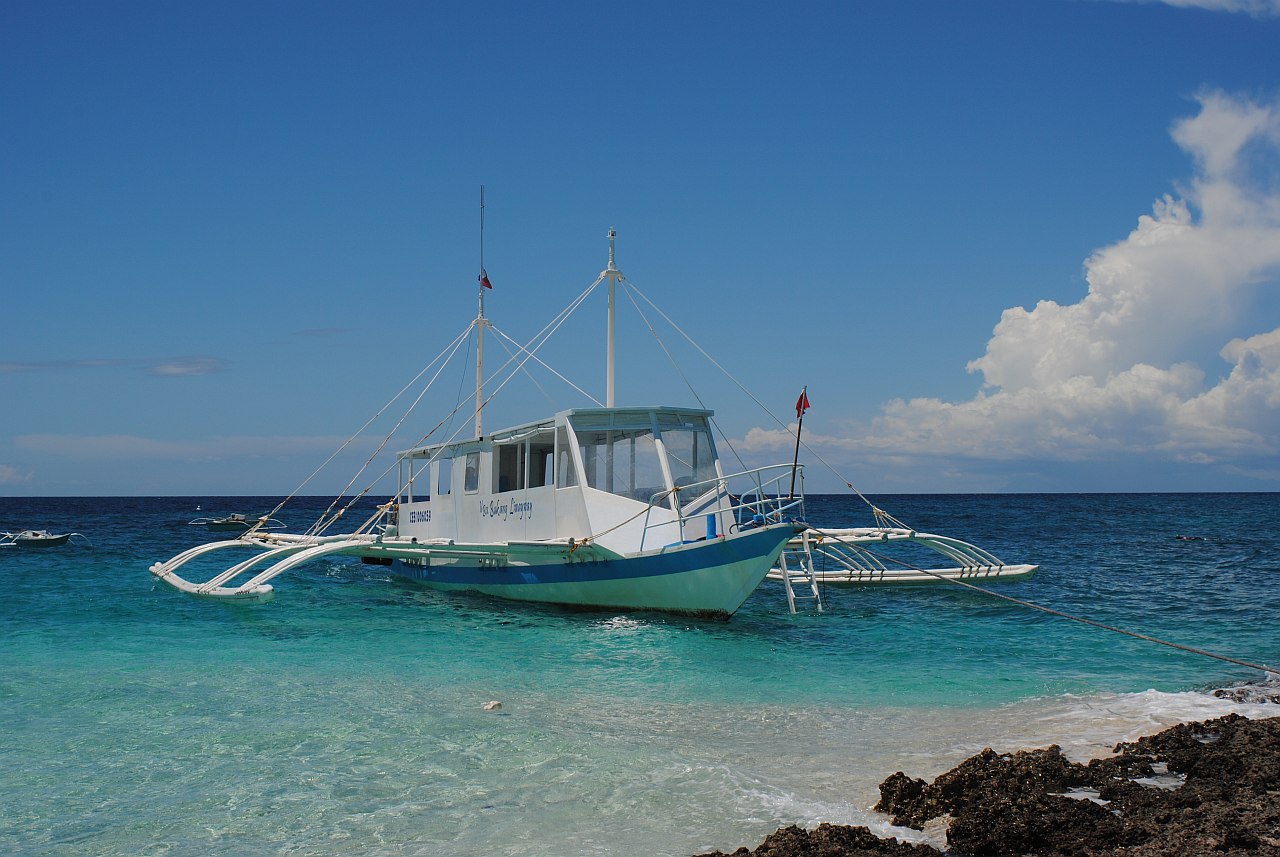 Our cruiser (crick here to enlarge, hopefully twice)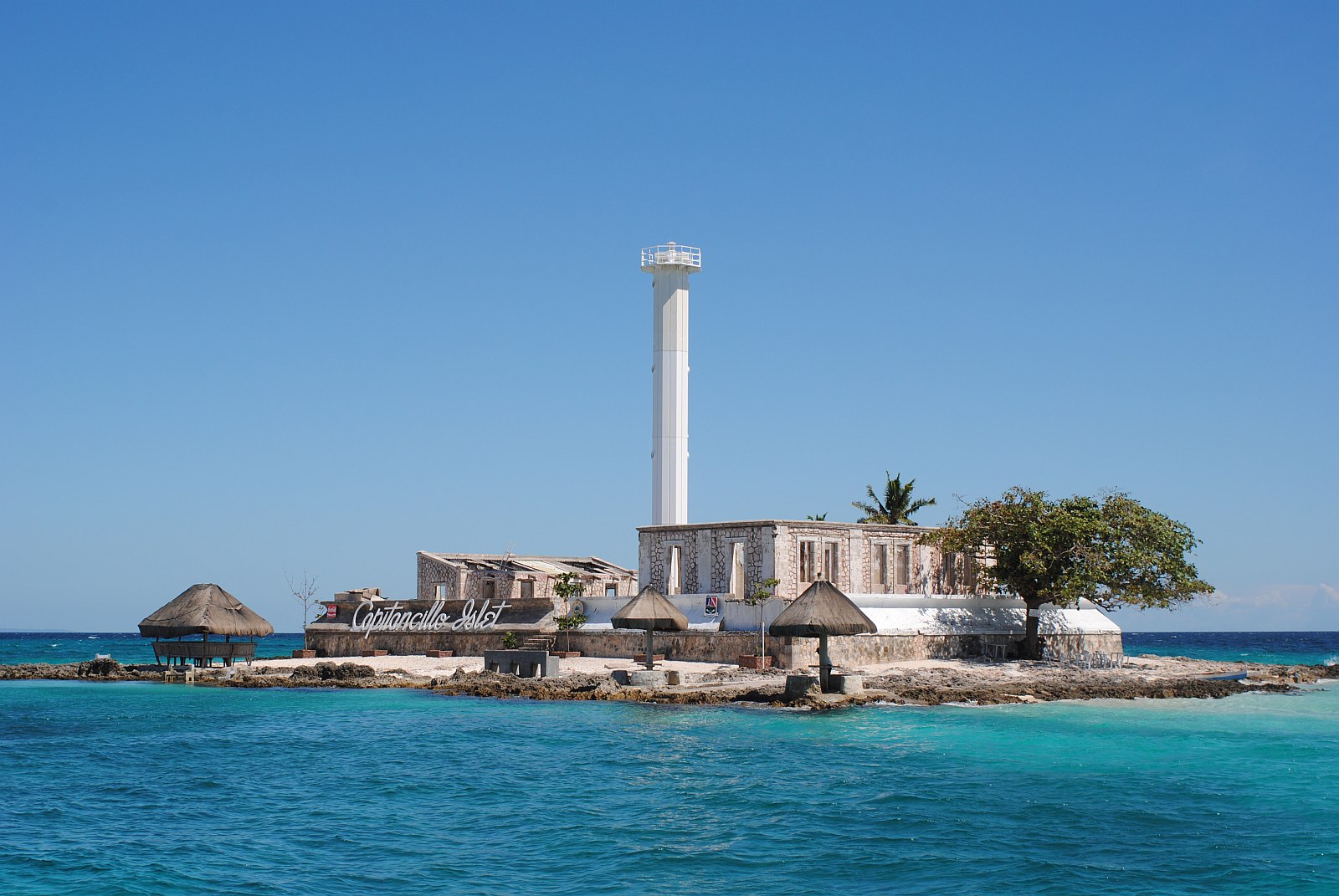 Good-bye Capitancillo Islet (crick here to enlarge, hopefully twice)



On the way back, we are intercepted by the traditional fisherfolk's shallops.

August 14 2010

We get up fairly lazily, and Takao and I search the shore of the resort's private coves with all natural white sand, especially studying the condition of coral. In fact, in the limited zones, they are alive and lush, while in other areas they area dead. During this time, Mineko and Aya go to aromatic massage. At 11:00 we depart on a hotel-arranged taxi (2,800 Peso for one way) for Cebu City to investigate the Asian economy, reputedly in the ragged edge. On the south-bound local main road, I glimpse the life style of the people; -1, -2, -3 Workers for lunch breat at Cebu Mitsumi, Inc, actually a big employer, whose workers commute on Jeepneys, buses or on foot for over 3 miles. After a 1.5 hours drive, we reach a big shopping mall named SM-city Cebu, which appears usual one in the western society, however, security agents are deployed thick not only in the parking but also in the four floors of the store. You may recall the dense deployment of cops in China Town of Manhattan under the administration of Mayor Koch in late 1980s. IT DOES NOT MEAN RULE OF LAW AND SECURITY, in fact, and be careful of picker/burglary. The landscape within the building is similar to that of the western countries, -1, -2. On the return road after rendezvous with the same taxi/same driver, we encounter the people who are hastily returning to their home north from workplace in the Cebu city area in Saturday afternoon, full-loaded in the jeepneys-1, -2 or ON the bus. According to the taxi driver, they work from Monday morning to Saturday noon in the city area (on the job), and Saturday afternoon and Sunday is free time. He says there are about six general hospitals in the Cebu city, and one doctor's university which I have a glimpse on the way back.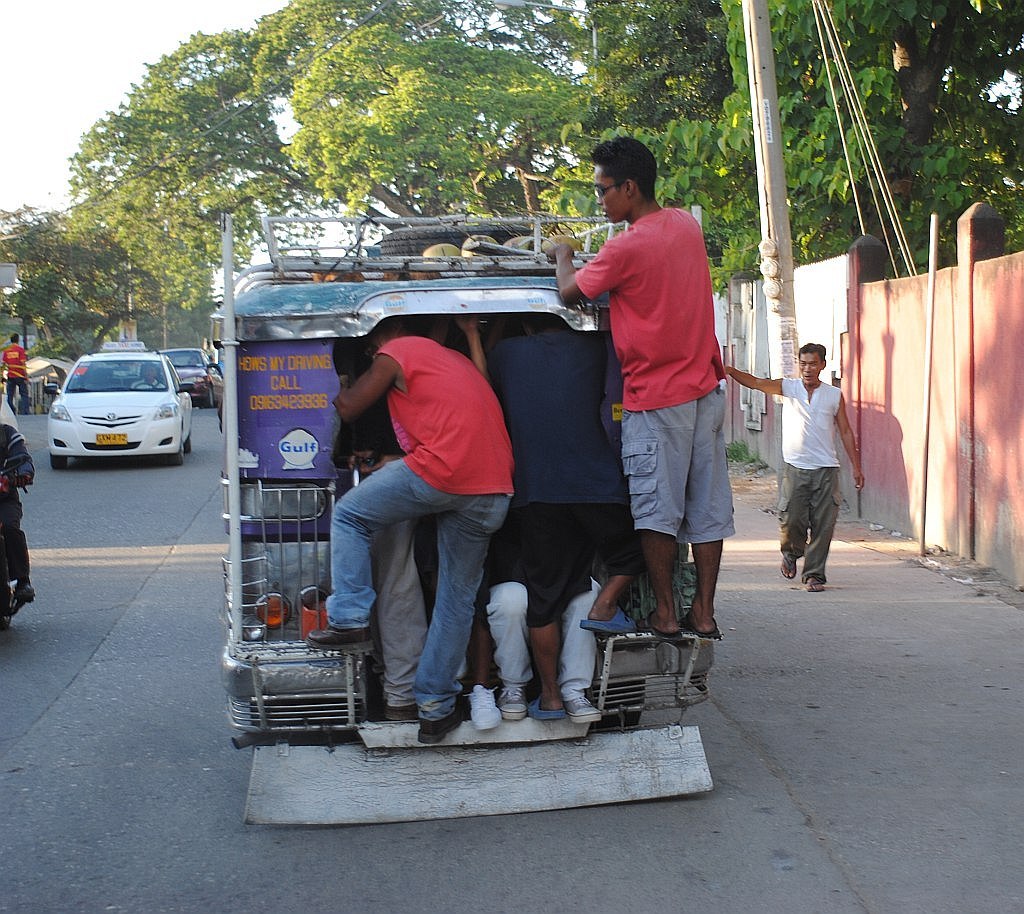 Packed in the jeepney on their way home in Saturday afternoon (crick here to enlarge, hopefully twice)



August 15 2010

We get up early morning at 3:00AM in the hotel and depart for the airport. Just remember to keep the final 550 Peso/person for airport terminal fee. Philipine Air Flight 434 (Airbus A330) for Narita takes off Cebu Mactan at 7:15AM local time and safely touch down Narita at 13:15PM JST. Mission accomplished.


---
Back to previous Home Page at AOL (Till October 31 2008)
Back to previous Home Page at geocities.jp web host (Till March 31 2019)
Back to New Home Page (Translocated Sakura server)
---
DISCLAIMER: This post/trip is not financially supported by the industry related to my current assignment to non-profit hospital. The views expressed here are those of the author Akio Hasegawa and do not necessarily reflect the official policy of any institutions in Japan. Citations of trade names do not constitute an endorsement of the products. Feedback is, as always, encouraged. Use the address DrHASEGAWA@aol.com for all correspondence regarding this column.

(Crick for English description)
This site is licensed under a Creative Commons License.
(Crick for Japanese description)
---
version 1.02 2010/8/26
Please send your comments to DrHASEGAWA@aol.com