At Yasukuni Shrine New Year 2023 (With Nikon D3000, at 8:30 in the morning of January 2 2022, shot with tripod, AF-S Nikkor 18-70 mm zoom lens and selftimer).
This year is Rabit year on the rotation of the 12 zodiac animal signs. The view to the entrance side Kudanshita - Photo-1, Main Gate - Photo-2, Congratulatory hanging curtain on the main gate - Photo-3, On the entrance road to Main Hall (Haiden) - Photo-4, Monthly bulletin of the letter from the battle field (fallen heros). This month, Otoji Kato, Private First Class (PFC) of the Imperial Japanese Army, killed in action on December 14, 1939 at age 27, in Kohokusho, China. This letter is to his wife in the home town (Yama county, Fukushima Prefecture) - Photo-5, We bow our heads twice and throw in some coin into the wooden box of Haiden. In front of the wooden plaque, depicting the animal of the oriental zodiac, one cycle in 12 years. This year is rabbit year, and I am person of zodiac year (12 x 6 = 72 years old in this August) Photo-6, Rabbits in zodiac year - Photo-7, Monument to Dr. Radhabinod Pal (Indian). who was a member judge of Tokyo Court after the defeat of WW2, who defended the Japanese side Photo-8.




---
Paying a new year homage regularly to the controversial Yasukuni Shrine with my family, located near my home in Tokyo, which is approximately equivalent to Arlington National Cemetery, we study not only from the military heritage, but the HISTORY itself. Herr Professor Arnold J.Toynbee! BTW, horse, sheep, monkey, fowl, dog, wild boar and mouse depicted in the wooden billboard shows one of the zodiac animal signs (mouse-cow-tiger-rabbit-dragon-snake-horse-sheep-monkey-rooster-dog-boar) rotating in 12 years.



On October 2 2004, I became an owner of Birkin 7 (chassis #MA1-93-2484-3, manual 5 speed, Weber twin carburetors, Ford Kent 1.6 littre), which is a pedigree of Lotus 7, UK, and was being manufactured in South Africa. My dream since the age of high school boy (BTW, do you remember the TV series "The Prisoner" in the late 60's in which Patrick McGoohan drives a Lotus 7 ? "Kar120C", "Nimble Cars: Seven") finally came true, but the challenges waiting in the future remain undetermined. It is said that there is no word for Quality Assurance for this type of brutally honest cars, and I entirely accept the term "at your own risk". Anyway, I am setting sail on a maiden voyage.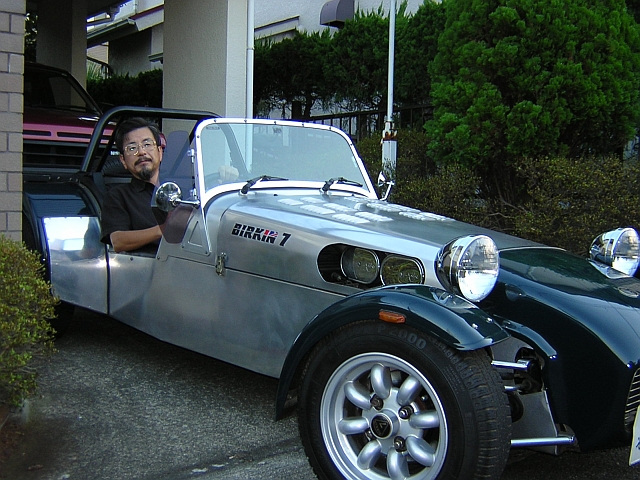 On maiden flight at Hayama, Kanagawa (With Nikon Coolpix 2100)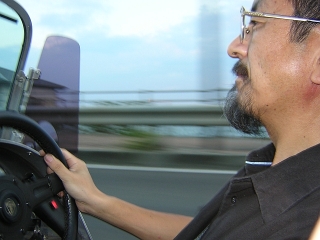 Feeling the wind on the road along the shoreline of Hayama (By my wife with Nikon Coolpix 2100)
Jump to "Photoalbum of My Birkin 7" page



"Every nation views international events through the prism of its history. ,,, The paradox is that a country that thinks of itself as acting in the name of universal values is seen by too many others as acting arbitrarily, or inexplicably, or arrogantly."
(Dr. Henry A. Kissinger, in "New World Disorder" submitted to Newsweek, May 31, 1999)

Back to previous Home Page at AOL (Till October 31 2008, no effect now)
Back to previous Home Page at geocities.jp web host (Till March 31 2019, no effect now)
Back to New Home Page (Translocated Sakura server)
---
version 1.47 2023/1/2
Please send your comments free to akio-h@fg-khn.jp